The Macao Government Tourist Office (MGTO) has launched a Macao Courtesy Campaign this July. Calling on all Macao residents and members of the trade to fully display a warm spirit of hospitality and make tourists feel at home, the first phase of this promotion has already kicked off.
Comprehensive promotion of new courtesy campaign
Tourism Awareness Campaign – A series of online promotions for the "Macao Courtesy Campaign" on MGTO's official social platforms, including WeChat, Xiaohongshu, Douyin, Facebook, Weibo, and other social media.
A short promotional video titled "Be My Guest ∙ Feel At Home" will also be broadcast on local TV stations, Tv sets on buses and taxis, websites, tourist information counters, mega outdoor LED screens, ticket offices of the Macao Grand Prix Museum, as well as through radio promotions.
In terms of offline promotion, MGTO has produced and placed promotional posters and banner advertisements on buses, advertising light boxes, banners, LED screens, and websites at various ports. Government departments will also broadcast relevant promotional videos and electronic posters at their facilities.
Moreover, the authorities are also producing a series of video interviews on front-line personnel treating guests with courtesy, so as to spread the concept of hospitality to all sectors of the community and jointly promote the image of Macao as a welcoming and courteous city.
Joint promotion within the industry
The MGTO will also continue to distribute badges from Quality Tourism Services Accreditation Scheme (QTSAS) to award-winning companies, with the slogan "Be our guest‧Feel at home". Posters and promotional materials will also be distributed among the different players of the travel industry, including hotels, restaurants, bars, and travel agents, so as to join hands with the sector in promoting courteous hospitality to guests and employees.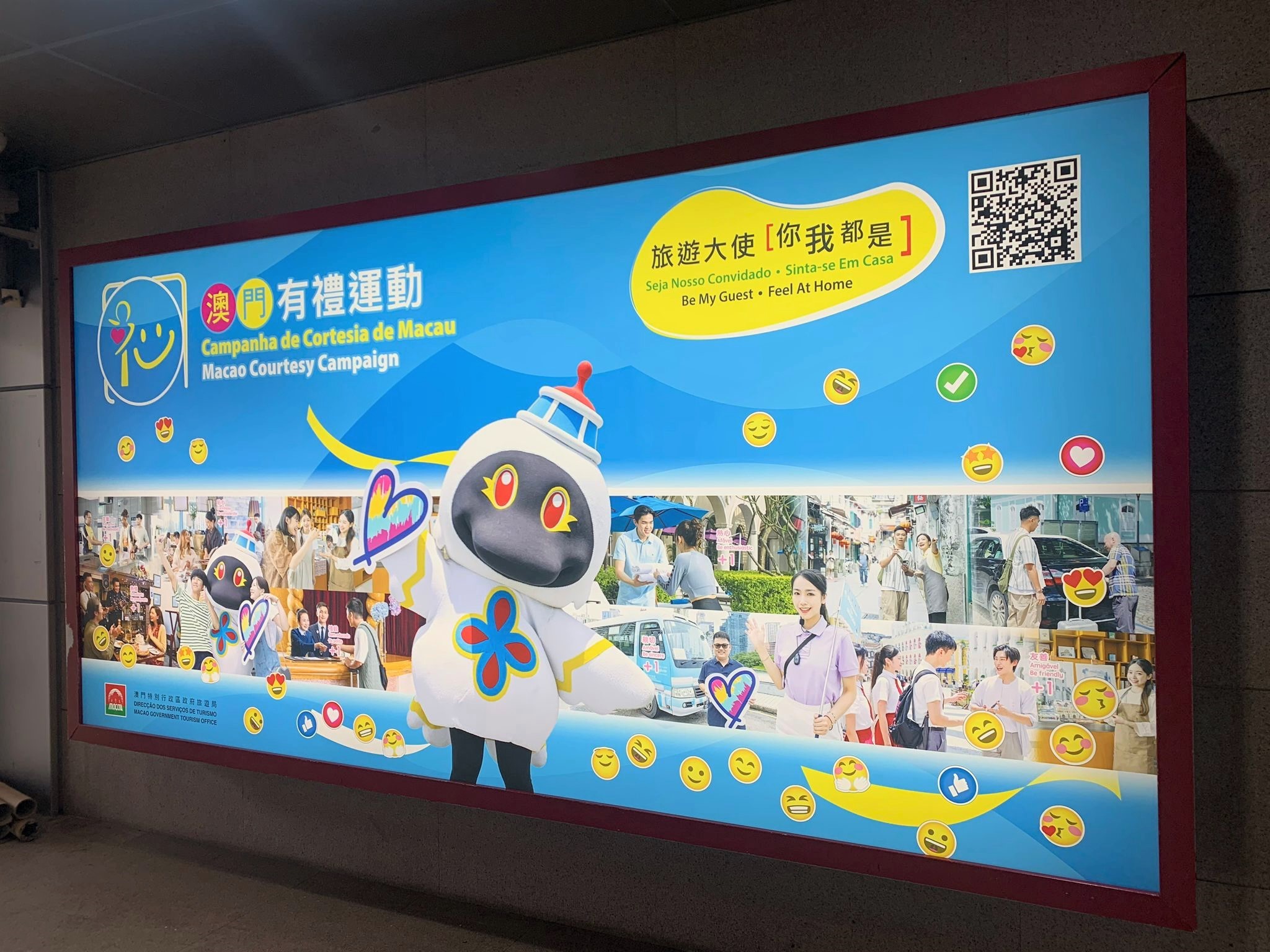 Tourism activities help promote courtesy
At the same time, promotional videos and posters will also be broadcasted and displayed at events organized, supported or subsidized by the MGTO.
For instance, the opening of the "Explore Food + Fun in a Small Town – Food Culture Market" as a MGTO-subsidized event on 15 July will include the Macao Courtesy Campaign, while the World Tourism Day – Tray Race, to be held on 27 September, will have "Macao's Courtesy" as this year's costume theme, to promote good hospitality practices to tourism employees in Macao.
Launch of an exclusive webpage
A Macao Courtesy Campaign webpage is now available, with residents and tourists alike able to obtain relevant information within it.
The Macao Tourism Awareness Campaign aims to raise awareness for the tourism industry among all Macao residents and the industry, promoting warm and courteous hospitality, improving the overall quality of Macao's tourism services, and build Macao into a world center of tourism and leisure.